Prices from $700 per person plus GST.
We only do training for groups of 5 or more at work places using their equipment unless hired in.
The Forklift LF and Order Picker Forklift LO Class courses are designed to prepare trainees to sit and pass the WorkCover license. The Sydney based training course covers:
Hazard Identification and Risk Control
Pre-Start and Pre-Operational Checks on the Order Picker Forklift
Safe Load Shifting
Fault Reporting Procedures
Shut Down and Securing of Order Picker Forklift
Assessment in theory knowledge
Assessment in basic calculations
Assessment in practical knowledge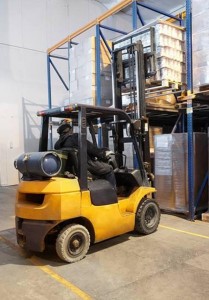 Schedule
Up to 6 hours for initial Training
Up to 6 hours for further training then pre-assessment. (Additional charges apply for re-training)
Includes 1 WorkCover Assessment per person (Additional charges apply for re-assessments)
Up to 3 hours for WorkCover Assessment in Theory and Calculations all applicants at the same time. Up to about ½ an hour each for the practical assessment conducted individually
Prices From
$700 Per Person depending on numbers and location of training. We don't have regular courses or a training venue. Training must be for groups at your workplace.
Lower prices may be available for larger numbers
Refresher training is also available. For more information click here Refresher Training
Verification of Competency (VOC) is also available for this. For more information click here Verification of Competency (VOC)
If you or your Sydney & NSW workplace require LO Class order picker forklift training or licensing please enquire below.