Prices From $250 per person for groups of 8 or more
Cost will depend on location and number of trainees
A tailored quote will be given
Training is only provided for group bookings at work sites where the equipment is available. We don't run regular courses or provide training to individuals.
Boom lifts over 11 metres require a SafeWork licence (WP). Boom lifts under 11 metres, scissor lifts and vertical lifts require "duty of care" training such as a Yellow Card.
It provides evidence employers have met their legal responsibilities when a high risk work licence is not required. This nationally recognised training is issued by the Elevated Work Platform Association of Australia (EWPAA) and delivered by accredited trainers.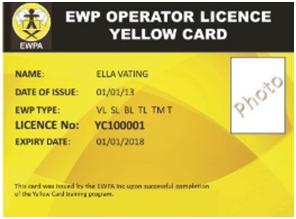 Elevated Work Platform EWP Yellow Card/ Licence classes are:
VL – Vertical lift
SL -Scissor lift
BL – Self propelled Boom lift (up to 11m)
TL –  Trailer lift (up to 11m)
TM – Truck mounted (up to 11m)
We can also offer VOC – Verification of Competency  in these classes
This course covers:
Hazard identification and risk control
Harness checks and correct use
Visual and movement checks
Safe set up and use of equipment
Emergency Procedures
Fault reporting procedures
Shut down and securing of equipment
Assessment in theory knowledge
Assessment in practical knowledge
Timing
Training takes 3 – 6 hours depending on numbers and operator experience.
Course Requirements
Participants need to provide one form of photo ID
All participants must be able to understand English
Suitable equipment in serviceable condition
Suitable areas for theory and practical training
Refresher training is also available. For more information click here Refresher Training
Verification of Competency (VOC) is also available with more information here Verification of Competency (VOC)
Enquire now about our Sydney & NSW training courses for Scissor Lift, Boom Lift, Vertical Lift and Trailer Lift Yellow Card/ License. Book or Enquire Now
Or for more information call 0410 019 149.